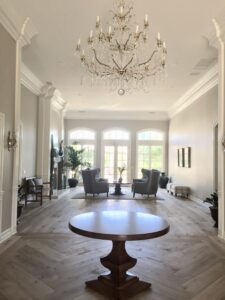 A large foyer makes a home feel grand. There are several tricks to keeping it from looking cavernous:
Run tile or hardwood front to back drawing your eye to the opposite wall.
Consider a decorative feature to offset the entry, making it feel special. In this case, we installed the hardwood in a herringbone pattern. The difference is subtle but effective.
If you've got high ceilings, add a large chandelier. My client inherited crystal and brass chandeliers that we were able to incorporate into the design without looking out of place which saved us $$. Big doesn't have to mean expensive.
Add a round table. It needs to have enough heft to not look out of proportion. Round shapes juxtapose an otherwise rectangular space and they're easy to walk around so they don't feel imposing.
Add a large vase of flowers. I am a fan of permanent botanicals. There are a few manufacturers who make very convincing likenesses. The good ones aren't inexpensive but you'll save money by not having to regularly refresh flowers.