If your fireplace was built before 2000, it's likely got polished brass trim. While brass is having a moment, it's best on accents like hardware and light fixtures. Polished brass trim on a fireplace enclosure is a distraction, making your fireplace look outdated. There's a simple, affordable solution most people don't realize – change the enclosure!! Go with a finish that complements your space. While the fireplace may be a focal point in the room, door trim should not be what commands your attention.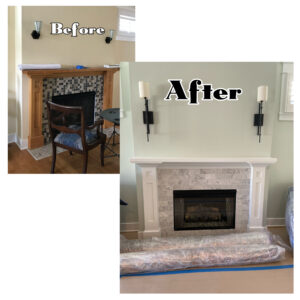 While you're at it, consider:
Refreshing gas logs. There are so many more attractive options now. You can even choose glass or pebble in lieu of the expected lava rock.
Replacing the mantel. Most fireplaces older than 15 years have a traditional mantel that no longer reflects the esthetics of most homes.
Retile the surround. A relatively affordable solution. For a dramatic effect, take the cladding all the way to the ceiling.
Paint the firebox. Scorch marks age a fireplace. As do red brick and concrete block. For less than $25, heat resistant paint can make your firebox look new. Rustoleum offers 37 colors so you can truly express yourself!