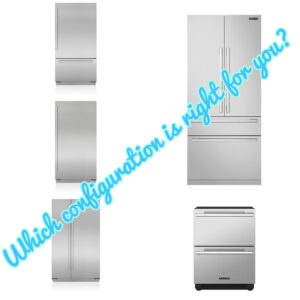 Which refrigerator/freezer configuration is best for you depends on how you eat at home.
The old reliable Side by Side provides more freezer storage in general than a French door but a Side by Side can't fit a full size frozen pizza.
French Door models work well in tight spaces because the doors are half the width of a traditional refrigerator so they don't block traffic. Because a bottom freezer pulls out, it's easier to see what's inside and can fit wider items.
The 4-door French Door model has stacked freezer drawers for even more storage with some versions offering a flex drawer with multiple temperature settings from chilled wine to deep freeze.
Columns come in a variety of widths that you can pair to give the appearance of an oversized side by side unit measuring up to 72". While I'm not delving into any other undercounter refrigeration, refrigerator/freezer Drawers bear mention. They won't take the place of a full size unit, but offer a convenient spot for frequently used items like beverages, produce and ice cream freeing up valuable space in the full size frig & freezer.