Ice Ice Baby
We love it. We consume it daily. But do we give it the consideration it deserves?
We rely on freezer ice makers or trays we fill with water because many freezers ice makers produce fishy tasting ice. Yet we know the real good stuff comes from dedicated ice makers. Yes, you need the luxury of space so it's not a solution for all kitchens.
Now come the options: nugget, clear, crescent, craft. If you like to chew ice, choose nugget. If you want ice that will chill without changing the flavor of your beverages, choose clear because it's filtered. If you want drama and/or to minimize beverage dilution, choose craft because it melts more slowly.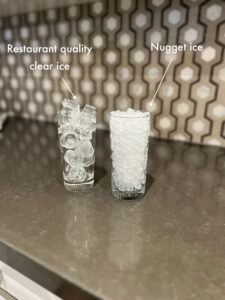 Finally, choose your finish. Panel ready to blend with the cabinets or stainless to match the appliances? Cheers!