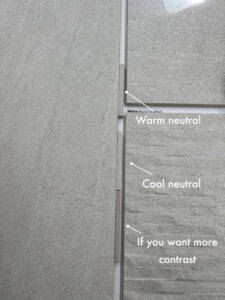 Grout is the unsung hero of tile installations. Few people think about it or even notice it unless there's a mistake. Choosing the right color makes a tile installation sing. Choosing the wrong color can make brand new tile look old.
When using:
*wood-look tile, the grout should be slightly darker than the tile to mimic the look of the space between planks.
*natural stone or stone look porcelain, I prefer a subtle contrast going with a slightly lighter or darker tone.
*glass tile, choose wisely as it can change the color of the tile since it's visible through the glass.
When using concrete look tile, go with as close a match as possible to create the illusion of poured cement.
When using white subway tile, choosing medium grey provides the perfect contrast. Some of the more popular DIY mistakes:
*Using white grout thinking it will provide a clean look when in fact it makes the tile look dirty. Why? Because no two whites are alike. The same is true for pairing white cabinets with white countertops but that's a conversation for a different post.
*Using black grout thinking it will provide a retro look when in fact it makes the grout look moldy. Contrast is good but too much draws attention away from the tile. The tile should be the star, not the grout.
Grout has come a long way over the past decade. Some formulas offer mildew, crack and stain resistance and require no sealing. The no sealing is a game changer. In the past, sealing grout added an extra day to the job since grout needs to be dry first. As more people move away from using natural stone tile (that definitely requires sealing) to porcelain, there is no need to seal the tile so why waste the time and expense of sealing the grout?