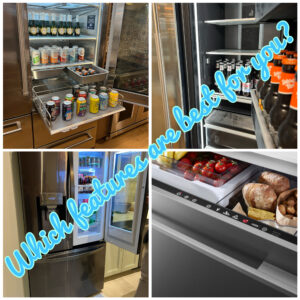 The average life span of a refrigerator ranges from 7-15+ years meaning most households have their frig longer than their car. Gone are the days when an external water & ice dispenser was your only option. Fact is, an external water & ice dispenser is the first part to fail and creates as many problems as it solves. It takes up valuable interior space. Every time you use the external ice maker, a gasket opens allowing the ice to be released. Warm humid outside air is drawn into the freezer resulting in internal temperature rise so the freezer has to work extra hard to regulate. That is one of the primary reasons for freezer burn and clumped ice.
Recognizing that consumers want specialty ice, many manufacturers have added it ranging from craft to proprietary shapes.
Many homeowners picked up baking as a hobby during the pandemic hobby. Higher end manufacturers like True have made it possible to fit a professional size baking sheet in a refrigerator.
Old fashioned refrigerator lighting can be unpleasantly bright when the kitchen lights are off. Theater style lighting gets brighter slowly while remaining soft. With more lighting placed throughout the frig, it doesn't need to be as bright and, because it's LED, it lasts longer.
For busy families that open the frig a lot just to grab beverages, the Door in Door feature is convenient and saves considerable energy.
Higher end refrigerators are integrating stainless steel interiors. Steel attracts cold, keeping the internal temperature cool without having to work as hard every time it's opened. Did you know you shouldn't be storing dairy on the refrigerator door? Most people keep it there for easy access. Unless you have a steel lined door, the temperature isn't as cold as the rest of the frig, causing dairy to spoil faster.
Higher end refrigerators have dual compressors – one for the frig and one for the freezer. Every time you open the door to a refrigerator or freezer contents are exposed to room temperature air so the compressor activates to keep things at the proper temp. When a single compressor works to bring the freezer back to 0 degrees, the frig cools down resulting in frozen veggies. When a single compressor works to bring the frig back to 37 degrees, the freezer warms up resulting in freezer burn. While dual compressors add thousands of dollars to the purchase price, food remains fresh longer and saves around $2500/yr in food waste.
The hottest new feature is Flex Drawers allowing homeowners to use them as either a refrigerator or a freezer. Higher end models offer up to 6 settings for soft ice cream & charcuterie at the ideal temp of 50 degrees, meat at 27, seafood at 30 and bar at 33 degrees.