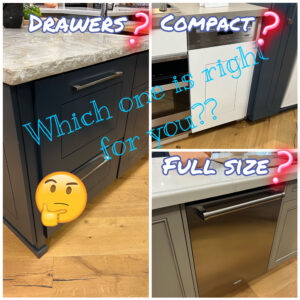 There is a dishwasher to suit every lifestyle whether you're living solo or entertaining large groups.
Drawers
If there are 2-3 people living in your home, dishwasher drawers are a great option – unless one of those people is a teenage boy in which case you'll need two full size dishwashers 😉 Dishwasher drawers are available as single units and pairs. The pairs can be run separately so you have the flexibility to wash according to your load size.
Full Size
This is the dishwasher we all know. Even so, they've been modernized so the tub is taller allowing room for a third rack.
Compact
If you're an apartment dweller or have limited space, a compact dishwasher is an ideal solution. They also work well in a Butler's Pantry where a bonus dishwasher is useful. Whereas traditional dishwashers measure 24" wide, a compact dishwasher is only 18" wide. And because they're full height, you're not compromising on space. In some cases, a third rack is available.
ADA compliant
An ADA-compliant dishwasher offers enhanced access for people with physical limitations. ADA-compliant dishwashers are shorter than standard dishwashers and feature easy-to-reach controls that can be operated with one hand. Because of the small height difference from standard dishwashers, an ADA-compliant dishwasher doesn't work in standard size openings. This isn't an issue with custom cabinets. Prefab and semi-custom cabinets will require modification to conceal the gap between the countertop and the dishwasher.