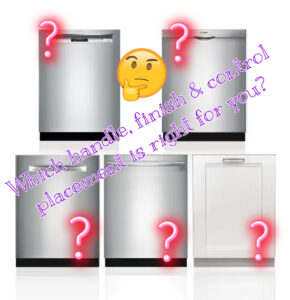 Welcome to my TED Talk: More Than You Ever Wanted To Know About Dishwashers. In today's installment, we'll discuss appearances. Options to consider:
Handle: recessed, bar, scoop, pocket
Controls: front vs top
Finish: stainless vs panel ready
A bar handle is only feasible with top (hidden) controls since it blocks front controls. Bar handles are available with both stainless and panel ready finish. The bar is a handy place for dishtowels.
Recessed, scoop and pocket handles aren't feasible with panel ready finishes since cabinet cutouts would be required to access them.
As its name indicates, the recess functions as both a handle and a place to minimize the look of front controls.
Pocket and scoop handles work with both front and top controls but only in stainless finish.
Panel ready finish matches the cabinets, disguising the dishwasher. For ultra-modern kitchens, consider a touch feature that opens the door without hardware.
I don't get compensated for anything I feature. I just like sharing good info.