In real estate, the key is location, location, location. With appliances, it's features, features, features.
Straw basket.
In an effort to protect sea turtles, reusable straws are becoming the norm. Hand washing is a nuisance and straws aren't getting sanitized. Lying them down in the silverware rack means the interior isn't getting clean. Cove's well placed basket at the front of the dishwasher enables straws to stand upright so water flows through getting them truly clean.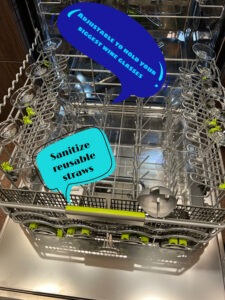 Auto vent
Auto vent enables the actuator (the little tab at the top that keeps the dishwasher closed) to pop the door open at the end of the cycle just enough to let cool air in which counteracts humidity to better dry dishes. No more puddles atop mugs or plasticware ridges filled with water.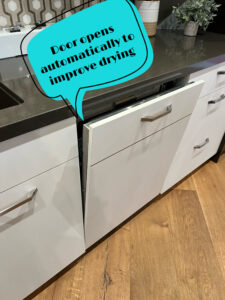 Removeable silverware tray.
Not everyone has a silverware drawer right next to the dishwasher meaning multiple trips to the dishwasher and back to unload. A removable silverware tray means you can unload all at once.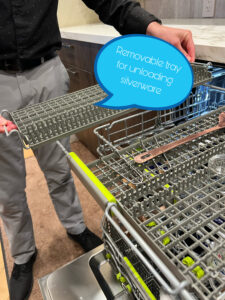 Dishware protector. We've all made the mistake of loading tall trays or plates so the spray arm can't rotate resulting in dishes that aren't quite clean. A dishware protector ensures tall items don't block the spray arm.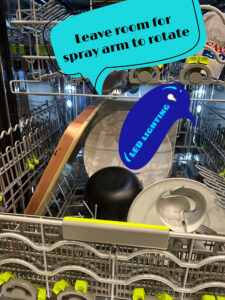 Americans have a love affair with wine. Whether entertaining or relaxing after the kids go to sleep, we end up with glasses that need to be washed. Hand washing is the last thing you want to do when you're relaxed so they pile up on the counter. Simply adjusting the bottom tines, tall stemware can fit and clean itself!
LED lighting is a luxury many manufacturers are adding to their appliances. Conventional ovens and refrigerators have been illuminated forever. Why not dishwashers?
Auto dispense
Adds detergent so you don't have to! You'll obvi need to replace it periodically but it's one less task on your daily To Do list.
I don't get compensated for any products I feature. I just like sharing good info.