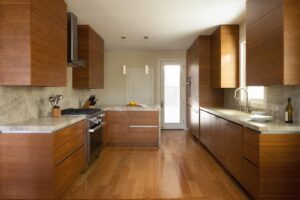 My client's previous kitchen was cramped. By removing the return wall at the end of the sink counter we gained storage. By removing the dining room wall, we got rid of the awkward inside corner, gaining accessible storage & natural light.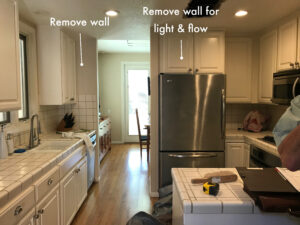 Removing the soffit, we were able to install taller upper cabinets for more storage and gained a great room feel with uninterrupted flow from the dining room through the kitchen. Soffits were common in older kitchens since they allowed room for fluorescent lights. Budget remodels remove the fluorescent fixtures and replace with recessed lights. Budget permitting, remove the soffit for a more spacious feel.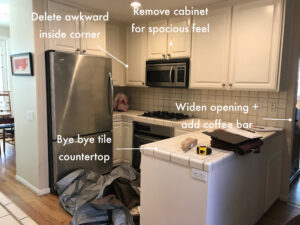 It goes without saying that replacing the tile countertop and splash with natural stone makes it easier to clean and looks modern.
Replacing the microwave hood above the range with a full height chimney style hood and taking the stone splash to the ceiling makes the kitchen feel far larger than it is.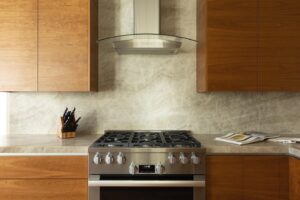 Good design is a compromise between form and function. In this case the client wanted a full height pantry but didn't want to lose the natural light from the window. The assumption is the room will be dark. Having a good lighting plan places recessed and undercabinet fixtures to compensate for the loss of natural light.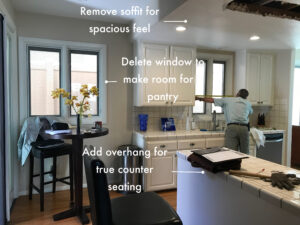 The previous counter provided no knee space for seating. By adding a 14" deep overhang, we were able to get rid of the bistro table without losing seating. Most eating bar counters are 12" deep. The extra 2" enable you to sit closer to the counter without knocking your knees. The waterfall edge was icing on the cake.
Paneling the frig and dishwasher and using channels instead of cabinet hardware gave the space an "un-kitchen" look which has become more desirable in modern homes.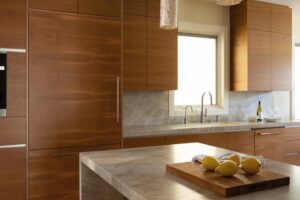 As with any successful remodel, teamwork is essential. Regular communication ensures no detail is overlooked. A post-demo meeting of the minds with multiple trades (plumber, electrician, tile setter, etc.) enables everyone to be on the same page.