Congratulations! Countless hours of studying and years of hard work have paid off – you're college-bound! Now what? Time to get organized! You've come to the right place… I've divided the task of packing into key categories:
DECOR
It's amazing how trendy dorm rooms have become. Students today spend alot of time and take great pride in personalizing their home away from home.
An area rug is a great way to warm up a utilitarian space. Outdoor rugs stand up to heavy traffic and are forgiving with spills. Surya offers hundreds of options at affordable prices. (You can save more buying through a trade source. Feel free to order through me at elizabeth@4friendsdesign.com)
Ikea has always been a favorite source for affordable framed art. Avoid damaging walls by picking up Command picture hanging strips from Target.
Task lighting is helpful when reading "the old fashioned way" from a text book. Ikea offers lots of affordable options including this colorful USB powered LED desk lamp.
Ikea's Rice paper lanterns are an affordable way to soften utilitarian overhead lighting.
Gotta have a full-length mirror! Ikea has everything from a simple over-the-door model to stylishly framed versions.
Keep your desk clutter-free and everything in view with The Container Store's multi-function utility board.
If your school is strict about hanging art, a simple solution is wall decals. Amazon features dozens, from inspirational quotes to polka dots to lifesize trees
FURNITURE
If you've got the room and the budget, you will not regret this purchase. These Modway swings cost designers half of what they sell for at retailers and are so comfy you'll never want to get up! (I'm happy to process Modway to-the-trade orders on your behalf at elizabeth@4friendsdesign.com).
If you don't have the room or the budget, a simple butterfly chair never fails.
Students will spend countless hours at their desk. Switching between standing and sitting has become a more ergonomic way to work. Yes, students get a desk in their room but for under $200 they can have an Ameriwood lift-top desk that will make getting through college that much easier. And when it's time to sit, why not do so in a Modway knock-off of the big name, state-of-the-art adjustable desk chair for under $100?
A headboard might seem like a luxury reserved for home but at under $100 for a Modway twin headboard, it's a plunge some students are willing to take to make their rooms extra special. .
A functional nightstand is important. Bed Bath & Beyond's adjustable storage cart is a practical solution at an affordable price.
LINENS
College towels rarely get hung up properly to dry. I highly recommend oversized Command hooks from Target to make it easier. And Quick Dry hand and bath towels from Bed Bath & Beyond. While everyone loves the luxury of an oversized bath sheet, standard size bath towels just dry faster.
Bedding is very personal. I am a big fan of an all-white bed so sheets can be bleached to keep them clean. I advise against percale sheets since their trademark crispness can make them surprisingly noisy. All cotton sheets help minimize sweaty nights. I prefer the smooth feel of sateen. Be sure to buy Twin XL for all bedding unless your school indicates otherwise. Pillows should be selected based on how you sleep (side vs back). A standard size down-alternative has the most appeal. I especially like the quality and value of The Company Store. The Company Store also offers a variety of colored, quilted comforters that require no cover. As with pillows, I prefer a down-alternative comforter. You'll want to choose the weight based on if you're a hot or cool sleeper and where your school is located. Better to err on the side of a light or medium weight comforter and add a cozy fleece blanket in the winter if necessary.
Why do you need a waterproof mattress cover, you may ask? Have you considered how many students slept on that mattress before you? Have you ever spilled your coffee in bed? Choose wisely. The lesser quality ones have crinkly waterproof layers that are noisy.
Target offers affordable laundry bags that stand on their own so, technically, double as a hamper. You'll want two: one for lights and one for darks. It will negate the need to sort in the dungeon your college calls their laundry room.
Last but certainly not least: the memory foam mattress topper. This item will make the difference between a good night sleep vs tossing and turning. Costco offers a good selection at a great price.
STORAGE/ORGANIZATION
Bed risers. Greatest invention ever. Double your storage space by raising your bed. This model from Bed Bath & Beyond even has an outlet and USB port! Target has a big and affordable selection of underbed storage bins.
Slim flocked hangers. Another genius invention. Hang more in less space without items slipping off. If you only get one style, the suit hanger works well for both tops and pants. Want even more room in your closet, consider The Container Store's Lynk Double Hang Closet Rod. Why clutter the floor of your closet when you can hang your shoes? Bed Bath & Beyond's 10-shelf hanging shoe organizer is a great and affordable solution.
BATH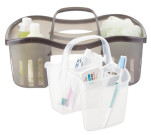 A good shower caddy is essential for trips to & from the bathroom – whether it's in your suite or down the hall. My fave is the virtually indestructible Casabella 2-in-1 shower caddy. I got one for my daughter for summer camp and it lasted for years.
CLEANING
I can already hear you laughing as I suggest sending GreenWorks multi-purpose cleaning wipes. Kids don't clean up after themselves at home. Why would they do so at college? Well, you'd be surprised how much incentive there is when their roommates and hallmates are messier! Whether wiping down counters in the room or cleaning up messes in the bathroom, these wipes do it all and are environmentally friendly.
So many people choose the convenience of a cordless stick vacuum only to a) forget to charge it or b) find it loses suction as the charge wears down. I am a fan of the plug-in Shark Rocket. It is far more affordable than the big name brand and gets the job done. It even converts to a hand vac!
Campus laundry machines take a beating. Keeping a pair of reusable Dryer Max dryer balls will not only eliminate static but keeps clothes circulating in the dryer helping them dry fully in one cycle.
ELECTRONICS
No more fumbling for the right USB charger. This multi-function USB cable can charge micro, C and lightning devices.
There's never enough light in closets. Add a battery-operated LED tap light for a better view!
There is nothing more frustrating than buying a fan just to realize it doesn't work. The Vornado Room Air Circulator is not inexpensive but a) it actually works and b) it lasts for years, so consider it a wise investment.
KITCHEN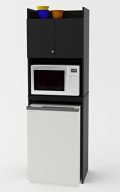 A microwave, mini fridge and Keurig are dorm room staples. Check with your roommate(s) to offset costs before purchasing your own. An Ameriwood storage cabinet for under $100 will keep your "kitchenette" in order and occupy less than 2ft in width!
PERSONAL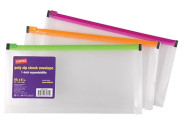 Easy to overlook, but these items should come with you to school. Keep them organized in a clear, poly zip envelope.
proof of health insurance
immunization record
emergency contact card
theft insurance
bank card